Thumb USB Flash drive data recovery services
Thumb USB Flash drive data recovery done on broken flash drives. Damage happens when users forget to unplug them before packing laptop. House animals are likely to help with breaking or chewing flash drives. Very common problem with flash drives are thorn USB connectors. When connector bends or breaks – PCB traces can also get ripped. Many DIY attempts end up with traces damaged, even if USB connector still intact. This happens when enclosure gets preyed with screwdriver or knife. When USB connector appears to be intact but there is a problem with traces or firmware, you may see errors like: – Flash drive is not formatted, flash drive is not being recognized, flash drive recognized but unusual name or capacity, recognized properly but unable to read or write correctly etc.
Checkout some of our recent work orders on photos.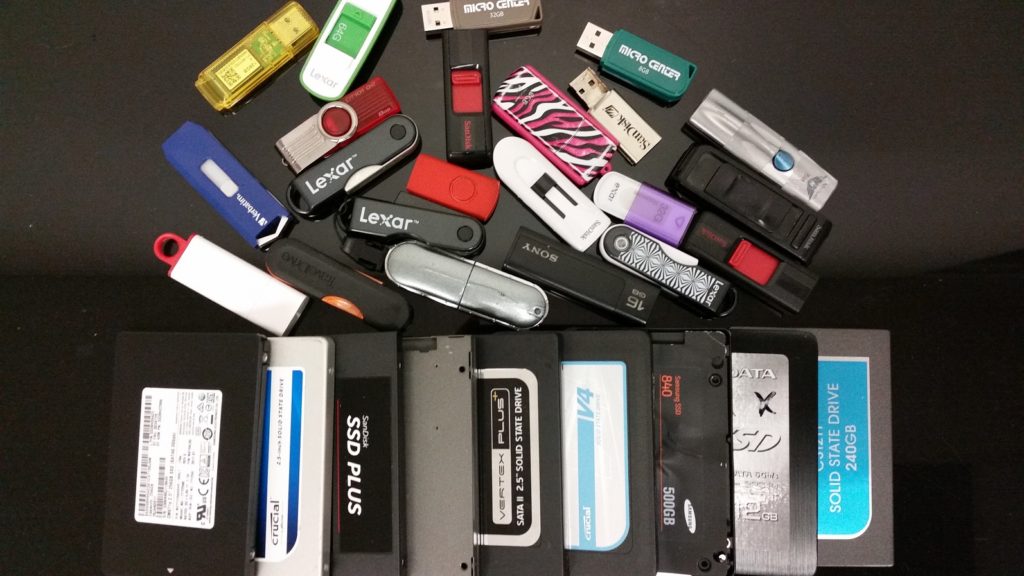 Solid State Drive (SSD) data recovery can also be challenging. This is due to lack of documentation or confidentiality for Intellectual Property of manufacturer. It is hard to find a simple pinout of a chip used, not to mention full datasheet with specs. Many SSD's encrypt data by default on hardware level. Not knowing encryption key may make it impossible to recover. New features like TRIM, Wear Leveling, Garbage Collection – help to maintain SSD health, but creates difficulty in recovering deleted or lost data. Physically damaged drives sometimes must be repaired in order to successfully recover data.
In general there are few ways to recover data from USB thumb flash drives or Solid State Drives. 1 is software way, usually caused by file system corruption due to loss of power, improper shutdown, virus attack or user errors. Some data recovery companies develop or reverse engineer drives firmware that will allow them to manipulate main controller registers to gain access to memory chip without desoldering NAND chips. 2 is hardware way, when there are physical or electrical damages and some PCB components need to be replaced or repaired. 3 – a chip off recovery, when nothing works and data recovery specialist will try to access memory chips directly via its interface contacts or debug ports. If its interesting for you, checkout last "chip off" link. It has an in depth look in to Forensics level of data recovery.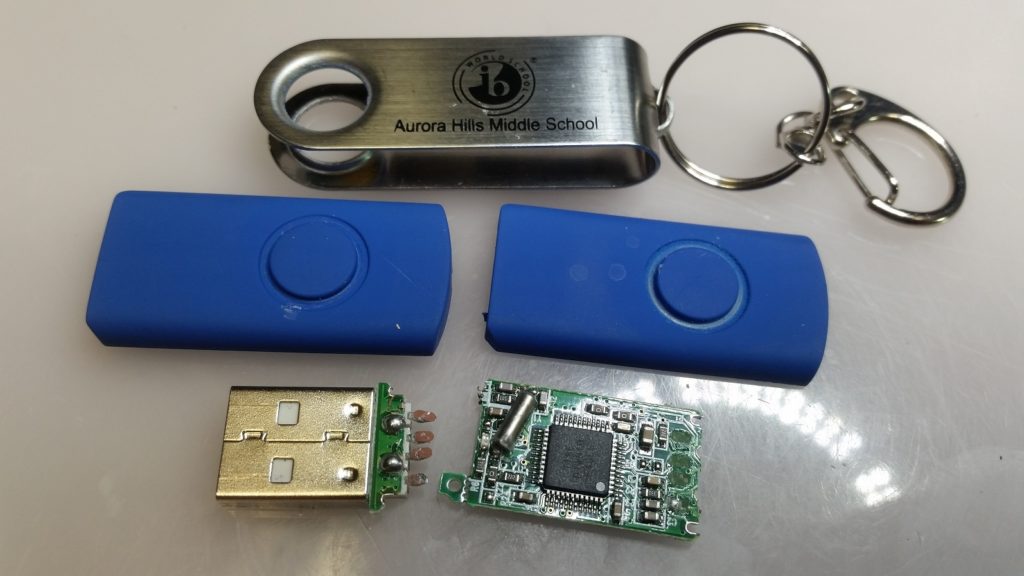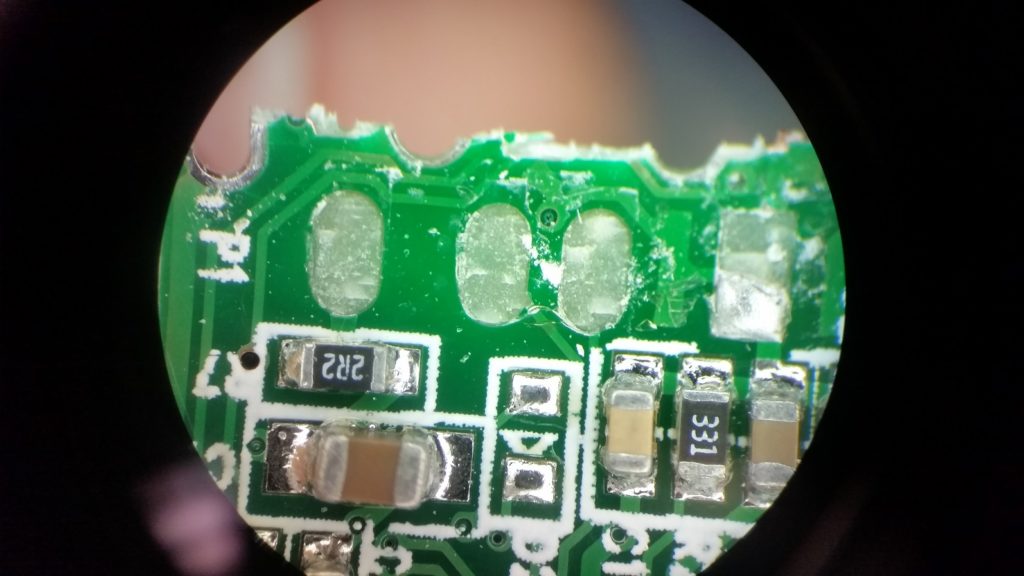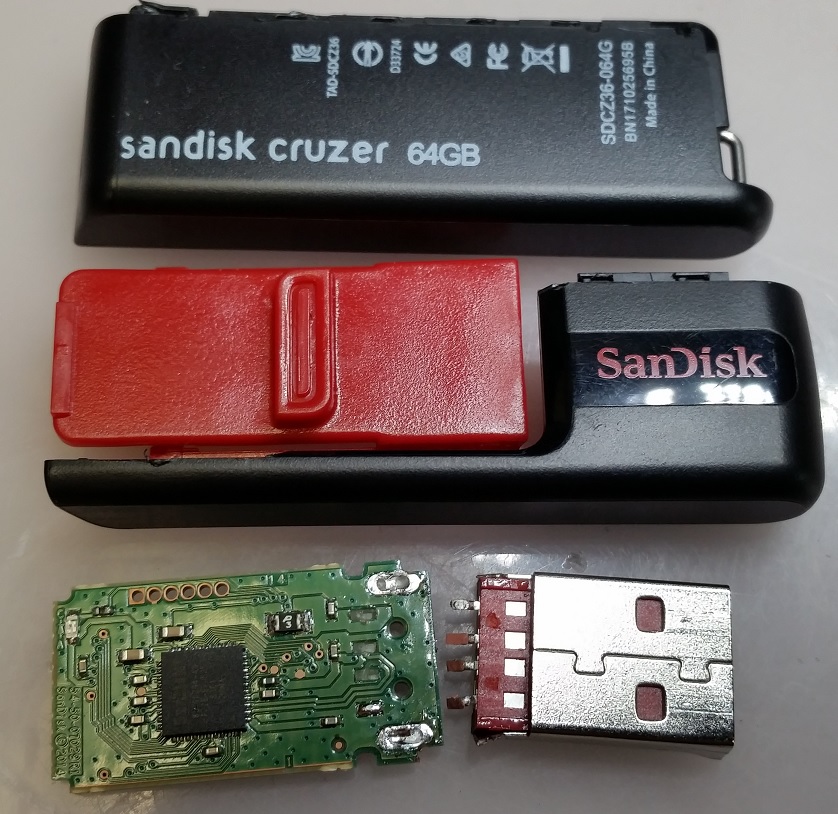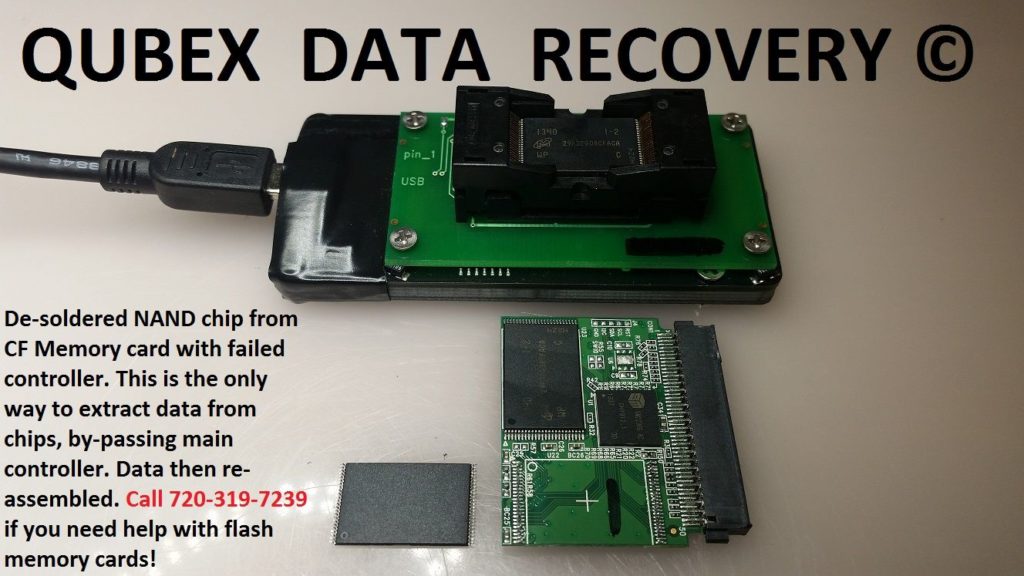 CALL 720-319-7239 or contact us here if you need help. Facebook users are welcome to contact us via this link
Professional Data Recovery for Flash Drives
The use of flash drives as storage devices has increased significantly over the last decade, and many digital devices and companies now use high-speed flash drives for long-term storage. Flash drives are primarily famous for their compact size, making it easy to transport a large amount of data anywhere.
However, flash drives are prone to damage and sudden failures like every storage device. If, unfortunately, for any reason, your flash drive has suddenly stopped working, don't panic. We can help!
Qubex Data Recovery has been providing professional flash drive data recovery services for years. We have experience, technical expertise, and tools to recover your crucial data from any flash drive, including the flash drives that are corrupted, disconnected, broken, damaged, or unreadable.
Our high recovery success rate, affordable pricing, and consistent five-star rated customer service make us one of the best flash drive data recovery services to recover your files from your USB flash drive. If your flash drive has any of the following conditions, your data can still be saved:
 Broken Connector
Physically Damaged
Corrupted File System
Not recognized by a computer 
Lifted or missing pads 
Missing or loose solder connection
If you don't see your specific situation above, expert engineers at Qubex Data Recovery can still help. Give us a call, and one of our experts will assist you as soon as possible.
How your broken flash drive data is recovered?
Qubex Data Recovery specializes in broken flash drive data recovery. Our experts have successfully fixed hundreds of USB drives while keeping the data confidential in the shortest time possible. If you have accidentally lost your data or can no longer read the flash drive in your computer, our professionals can recover it.
Once we receive your flash drive in our recovery lab, we will begin the evaluation and recovery procedure. Any damage to the printed circuit board (PCB) or connector pads will be repaired first before we re-solder the USB connector to PCB. Once we establish a good electrical connection between the USB connector pads to the USB, it should begin working again.
In more complex cases where the USB is damaged beyond repair, the only option is to read the NAND memory either by accessing the test points on the chip or physically removing the memory component itself.
Ready to call us?
In order to begin your efficient broken flash drive data recovery, your first step is to contact us or fill out the form available on our website. We will evaluate your condition and come up with a reliable plan for your data retrieval. Get in touch with us today!